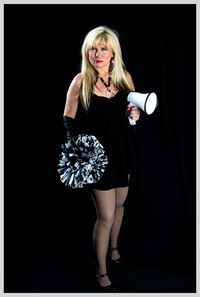 Vocals / Crowd Control
If Kat looks familiar to you, it's probably because she did a gig in your town-wherever you live. Since joining her first band at the tender age of 17, she's been around the world more times than a Sputnik satellite, performing at one time or another, on all the important continents (yes, even Iceland!). Citing Aretha Franklin, Chaka Khan, and Jessica Rabbit, as major influences, she never fails to wow both the audience and band, night after night. A native of North Dakota, Kat's been a crowd favorite here in Reno, fronting bands like Vamp and Steel Breeze, since 1990.
Drums / Vocals
"Speak softly, and carry a big stick." Good advice, indeed. Since picking up the sticks at the age of nine, Lenny knew it was all about the song. The L.A. native's influences include John Bonham and Charlie Watts, who were, in turn, influenced by Stax legend Al Jackson. Honing his craft on the road with bands such as Badfinger, Iron Butterfly and the Eddie Van Halen produced band, Private Life, Lenny brings a lifetime of experience, (and more than a few good stories) to arizona jones.